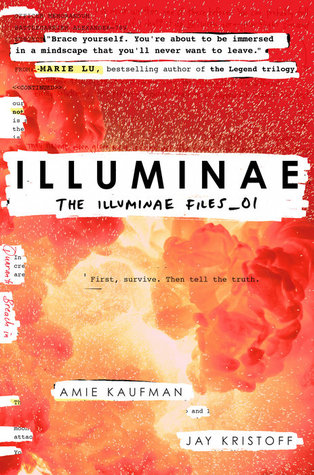 Series: The Illuminae Files #1
Authors: Amie Kaufman & Jay Kristoff
Publisher: Knopf Books for Young Readers
Publication Date: October 20, 2015
Genres: Young Adult, Science Fiction, Thriller, Romance, Mystery
Rating: 6 out of 5 (Yes, it gets an extra star for being so awesome!)
Synopsis
This morning, Kady thought breaking up with Ezra was the hardest thing she'd have to do.
This afternoon, her planet was invaded.
The year is 2575, and two rival megacorporations are at war over a planet that's little more than an ice-covered speck at the edge of the universe. Too bad nobody thought to warn the people living on it. With enemy fire raining down on them, Kady and Ezra—who are barely even talking to each other—are forced to fight their way onto an evacuating fleet, with an enemy warship in hot pursuit.
But their problems are just getting started. A deadly plague has broken out and is mutating, with terrifying results; the fleet's AI, which should be protecting them, may actually be their enemy; and nobody in charge will say what's really going on. As Kady hacks into a tangled web of data to find the truth, it's clear only one person can help her bring it all to light: the ex-boyfriend she swore she'd never speak to again.
Told through a fascinating dossier of hacked documents—including emails, schematics, military files, IMs, medical reports, interviews, and more—Illuminae is the first book in a heart-stopping, high-octane trilogy about lives interrupted, the price of truth, and the courage of everyday heroes.
My Review
This is truly one of the most original and creative books that I have ever read. After reading the synopsis for this book, I was greatly excited. I can honestly say that I did not know what to expect going into this book. I didn't really have any expectations, other than I knew that the book would be good because of the familiarity with the authors. They write extraordinary books, and so I knew this one would fit the bill. What I didn't expect was for this book to leave such an imprint on me.
The first thing that you will notice about this book is the format. This book is told in an unorthodox, yet fascinating way. Coming directly from the synopsis of the book, this story is "told through a fascinating dossier of hacked documents—including emails, maps, files, IMs, medical reports, interviews, and more." You may be wondering how you can possibly comprehend a story that it told in such a manner, but Kaufman and Kristoff pull it off effortlessly. They tell a story that is so effective, that I wouldn't be surprised if books in this format start popping up like mad. Not only do you comprehend the story, but you fall right into it. This story will devour you whole. It is truly a visionary piece of art.
After the initial shock of not reading a traditionally structured novel, you will start to connect with the characters. These characters are going through so much trauma that you can really feel what they are feeling. While reading you come to love them and root for them.
The mystery and suspense in this book are freaking amazing! Just when you think you have things figured out, BOOM! Things get shaken up and you are left with your mouth hanging open while you race through the pages to find out what happens next. I just love the way that things played out. I was certainly not expecting all the twists and turns.
Kaufman and Kristoff tell a story so magical that you will be swept up and carried away. I guarantee that once you start reading this you will not be able to put it down. Even if you are skeptic about reading this because it is outside of your comfort zone, READ IT ANYWAY! Seriously, I cannot stress enough the AWESOME that is this book. I am highly (and agonizingly) anticipating the second part of this story in Gemina!
If you have read Illuminae, what did you think? Do you like reading science fiction novels? If so, which are your favorite? If not, what genre kickstarts your heart?